About the Author of the SDIS, SDIS-Revised & SDIA
Marsha Luginbuehl, Ph.D., NCSP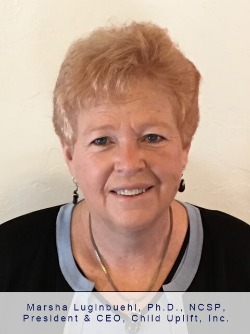 "Sleep disorders were once considered a problem only in the adult population. Through Dr. Marsha Luginbuehl's seminal research, she introduced knowledge of pediatric sleep disorders and their impact on the health, safety, cognition, behaviors and achievement of children and youth to the fields of education and school psychology. Her research resulted in the development of the first screening instrument to be used in the school setting. The Sleep Disorders Inventory for Students (SDIS) is used in many school districts, psychology and pediatric private practices, universities, sleep clinics and children's hospitals throughout the USA and Canada. The significance of Luginbuehl's research and the SDIS is far reaching. Approximately 70 million Americans suffer from some type of sleep disorder. Until recently, medical personnel and educators paid little attention to the impact of sleep disorders on the educational outcomes of youth. The SDIS provides educators [also psychologists and medical professionals] an instrument to screen children and adolescents for symptoms of sleep disorders and prevent the collateral academic and behavior problems often associated with sleep disorders. Dr. Luginbuehl's research has impacted children and families struggling with sleep disorders across the country. Her contributions to sleep medicine, education and research are recognized both nationally and internationally."
- Testimonial by Dr. Kathy Bradley-Klug, Ph.D., Director of the Department of Education at the University of South Florida, Tampa, FL.

Brief Curriculum Vitae
Dr. Marsha Luginbuehl is the author/developer and publisher of the Sleep Disorders Inventory for Students (SDIS), The Sleep Disorders Inventory for Students-Revised (SDIS-R), and the Sleep Disorders Inventory for Adults (SDIA). She received a Bachelor of Arts Degree in Psychology from the University of Kansas, and Master of Arts (M.A.), Educational Specialist (Ed.S.), and Doctor of Philosophy (Ph.D.) (2003) Degrees from the University of South Florida, Tampa, in School Psychology with emphases in Pediatric Sleep Disorders, Pediatric Psychology and Family Therapy. She has practiced school psychology since 1987, as well as provided private practice therapy and assessment from 1995-2006. She is a Nationally Certified School Psychologist specializing in pediatric sleep disorders, psychoeducational evaluations, and counseling/therapy for students, families, and women. Some of her areas of counseling/therapy specialization are behavioral sleep problems in children, crisis intervention, bully prevention, disciplinary and parenting issues with children, recognizing and disengagement from spouse abuse, homework issues, etc.
Recognitions and Awards received by Dr. Luginbuehl for her important research, publications, and work with students and families:
Luginbuehl's development of the Sleep Disorders Inventory for Students (SDIS) has been analyzed by two of the leading sleep medicine and measurement specialists in the world, along with 182 other sleep screening instruments (Spruyt & Gozal, 2011, Sleep Medicine Review). After extensive research and analyses, Spruyt & Gozal reported that only the SDIS and one other foreign sleep screening inventory had been accurately developed and validated based on all 11 recommended steps of psychometric validation. Only the SDIS and the SDIS-R uses quick, accurate computer scoring that generates a graph and comprehensive report analyzing the results clearly for parents and professionals. The same is true for the new Sleep Disorders Inventory for Adults (SDIA).

American Psychological Association's (APA) 2003 "Outstanding Dissertation of the Year Award" in Division 16 for her interdisciplinary collaboration nationwide with renown pediatric sleep centers and sleep medicine specialists, psychologists, and measurement/statistics experts to develop and validate the Sleep Disorders Inventory for Students (SDIS) using all 11-recommended steps of accurate validation.

The 2005 - 2006 United School Employees of Pasco (USEP) "Teacher of the Year in Student Services Award" for the development of the SDIS and a sleep screening process in the Pasco County, FL School District.

The Marquis Who's Who in America recognition in 2007, 2008, 2010, 2012, to the present,"...which is limited to those individuals who have demonstrated outstanding achievement in their fields of endeavor, and who have, therefore, contributed significantly to the betterment of contemporary society."

The Marquis Who's Who in American Medicine and Health in 2011.

Meeting with Senators Dr. John Barrasso, MD and Mike Enzi in Washington D.C. to discuss the possibility of promoting universal sleep screenings in the public schools to identify and correct sleep disorders before they do collateral damage to the health, safety, cognition, and achievement of students.


Dr. Luginbuehl is passionate about promoting universal sleep screenings for all children and adolescents due to the high prevalence of sleep disorders in children/youth. After personally experiencing how these sleep disorders have negatively impacted her own family's lives educationally, behaviorally, health- and safety-wise, she is determined to prevent the same suffering in students and their families that sleep disorders have cause her family.

Sleep disorders are prevalent in the Knapp-Luginbuehl family, which have provided Dr. Luginbuehl with many unwanted first-hand experiences in learning about the negative impact of sleep disorders on a child's functioning and a family's well-being. Her father died, never knowing he had Obstructive Sleep Apnea (OSA). Her son, Matt, had significant OSA that was only identified when he was 18 years of age. There was a 10 year delay in Matt's sleep disorder being diagnosed and corrected, resulting in many incorrect diagnoses as a child and adolescent, such as ADHD, Specific Learning Disability, and Depression. Luginbuehl kept telling Matt's pediatrician, the school psychologist who tested him for a learning disability, and even an adolescent psychiatrist about Matt's sleep problems (loud snoring and kicking around all night; pauses in breathing and then gasping for air; difficulty awakening in the morning and staying awake throughout the day in his classes, etc...). They all ignored Matt's sleep problems and didn't think that could be the cause of Matt's problems. Finally a dentist with training in Obstructive Sleep Apnea noticed that Matt kept falling asleep and having sleep apnea spells (pauses in breathing) during a root canal! He recommended an overnight sleep study. Matt was diagnosed with Obstructive Sleep Apnea a month later. Matt's sleep problems were corrected with a simple adenotonsillectomy to remove his enlarged tonsils and adenoids that were blocking Matt's airways at night and causing many apnea events.
Only two weeks after surgery Matt's life changed drastically! Instead of sleeping half of the day and getting fired from many parttime jobs because he was inattentive or falling asleep on the jobs, Matt was energetic, alert, much more attentive, and less irritable and oppositional (all signs of excessive daytime sleepiness). When Matt had the sleep problems, he was struggling in school. However, after his sleep disorder was corrected, Matt completed eight years of rigorous military service in the Marine Corps (4 years) and the Army (4 years), and then he entered the University of South Florida where he studied finance. He now works fulltime at a stock transfer company and successfully supports his wife and three children.

Dr. Luginbuehl's personal experiences with sleep disorders continued (sleep disorders are very hereditary and run in families) when her first granddaughter almost died of an apnea event at one week of age. In spite of this near SIDS event, physicians would not consider correcting Maia's sleep apnea for four years until they were shown her high sleep problem scores on the Sleep Disorders Inventory for Students that Luginbuehl had developed, which demonstrated the severity of Maia's sleep apnea and convinced them to do an adenotonsillectomy. This surgery corrected Maia's nighttime apnea events and resulted in a more alert, happy girl with improvements in her behaviors. Maia is now a student at Brigham Young University - Idaho.

Dr. Luginbuehl's grandson, Jaxon, had his Obstructive Sleep Apnea corrected before entering kindergarten, and he is very successful in school. Luginbuehl's fifth grandchild, Eden, died in her sleep at 3 ½ months of age. Unfortunately, Dr. Luginbuehl is all too aware of the damaging, and sometimes life-threatening impact that sleep disorders have on children and their families. Nevertheless, Dr. Luginbuehl realized that these heart-breaking family experiences were placed in her life for a purpose, and the purpose was to take action and try to find a way to prevent the same suffering in other families. She realized that a simple sleep screening inventory could facilitate early identification of sleep disorders in children so that they do not have to experience the same learning and behavior problems her son experienced for 13 years. More importantly, Luginbuehl knew that an early sleep screening might prevent the death of a loved one caused by severe apnea events causing heart failure, suffocation, strokes, etc. It might also prevent many people from falling asleep while driving a vehicle and killing themselves and others. Approximately 200,000 vehicular accidents occur annually caused by drivers falling asleep at the wheel, resulting in thousands of deaths and injuries!

After Luginbuehl witnessed the improvements in her son post-correction of his sleep disorder, she started asking all parents of children she was evaluating for learning or behavior problems if their children had any sleep problems. She was shocked to discover that approximately one-third of these children's parents were responding "yes" to her sleep problems questionnaire! Furthermore, she discovered that many of the children whose parents had indicated there were significant sleep problems were actually being diagnosed with a sleep disorder when the parents took their children to a sleep center for evaluation. After Luginbuehl became aware of the high number of students with correctable sleep disorders, especially those with learning or behavior problems, she decided to return to the University of South Florida in Tampa to pursue her doctorate with emphases in pediatric psychology and pediatric sleep disorders. Her new goal and purpose in life was to develop an accurate sleep screening inventory to help identify the most common and harmful sleep disorders in children and adolescents. Dr. Luginbuehl has extensively researched the field of pediatric sleep disorders and collaborated with nationally-renown sleep specialists, psychologists, and measurement experts to develop an accurate sleep screening inventory and complete her dissertation entitled "The Development and Validation of the Sleep Disorders Inventory for Students ( SDIS)".

Dr. Luginbuehl has provided many workshops and seminars nationwide on pediatric sleep disorders to school psychologists, school nurses, pediatricians, counselors, teachers, sleep specialists, etc. at local, state, and national conventions. She consults and trains school districts in inexpensive universal sleep screening methods. Luginbuehl is regarded as one of the national and international experts on universal sleep screening procedures for pediatric sleep disorders. Some of her professional publications about sleep screening include:
Luginbuehl, M.L. (2004). The initial development and validation study of the Sleep Disorders Inventory for Students. Dissertation Abstracts International Section A: Humanities & Social Sciences, 64(12-A), 4376.

Luginbuehl, M.L., Bradley-Klug, K.L., Ferron, J., Anderson, W.M., & Benbadis, S.R. Pediatric Sleep Disorders: Validation of the Sleep Disorders Inventory for Students. School Psychology Review, 37, 3, 409-431.

Luginbuehl, M.L., & Bradley-Klug, K.L. (2008). Assessment of Sleep Problems in a School Setting or Private Practice. In A. Ivanenko (Ed.), Sleep and Psychiatric Disorders in Children and Adolescents. New York: Informa Healthcare, 109-138.

Luginbuehl, M., & Kohler, W.C. (2009). Screening and Evaluation of Pediatric Sleep Disorders. Child and Adolescent Psychiatric Clinics of North America, 18(4), 825-838.

In the January, 2011 publication of Sleep Medicine Reviews, Karen Spruyt, PhD, and David Gozal, MD, analyzed 183 sleep screening tools for children and adolescents and reported that only the Sleep Disorders Inventory for Students (SDIS) and one other foreign inventory had been developed properly using all 11-recommended steps of psychometric validation, resulting in high validity and reliability. The SDIS is the only sleep screening inventory with instant computer scoring that automatically generates a graph and thorough report with recommendations for correction of the sleep problems if the scores are higher than normal.


In conclusion, Dr. Luginbuehl gives the following advice to all parents: