About Us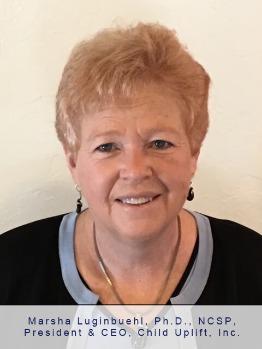 Child Uplift, Inc. is an S-Corporation owned and operated by Dr. Marsha Luginbuehl, President & CEO, and Peter Luginbuehl, Vice President and Director of Finance and Marketing. Dr. Luginbuehl is a school psychologist with doctoral emphases in Pediatric Sleep Disorders, Pediatric Psychology and Family Therapy. She has received many awards and recognitions for the original Sleep Disorders Inventory for Students (SDIS) (please see "Author" or "Awards" for more information).
We derive great joy knowing that our company, Child Uplift, Inc., and the Sleep Disorders Inventory for Students (SDIS) has helped thousands of children and adolescents in the USA and internationally get their sleep disorders identified and treated at an early age. This early identification and treatment reduces their suffering, learning problems, emotional, and/or safety problems and improves their health, success and quality of life.
Now we are excited to present a new version of the SDIS-Revised and the new Sleep Disorders Inventory for Adults (SDIA), which has many new and improved features. These new sleep screening inventories can be found on our website at SleepInventory.com. These sleep inventories can be accessed by both parents and professionals.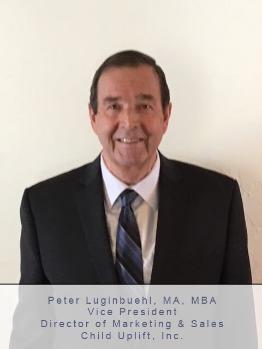 Peter Luginbuehl has his MBA from the University of St. Gallen, Switzerland in Business Administration with an emphasis in Personnel Management. Peter also has a Masters Degree in Foreign Language Education from the University of South Florida, Tampa. Peter has been Marketing Director of Karrer, Weber, & Co (KWC) in Unterkulm, Switzerland where he introduced and successfully marketed their luxury kitchen and bathroom faucets and accessories to the Asian and American markets while maintaining their #1 position for luxury faucet sales throughout Europe. Before joining Child Uplift, Inc., Peter was also General Manager of Beaver Industries in Clearwater, FL, a Swiss company that manufactured high quality kitchen cabinets here in the USA.
Child Uplift, Inc. was initially founded in 1995 as a Counseling and School Psychology Private Practice and provided psychoeducational assessments and counseling services to children and families for the first nine years. The company has expanded its services to include the publication of the Sleep Disorders Inventory for Students (SDIS), which was developed by Dr. Luginbuehl while completing her Dissertation for her doctorate degree. The SDIS is now used by pediatric professionals (pediatricians, developmental pediatricians, psychiatrists, sleep specialists, school and clinical psychologists, school nurses, mental health counselors, researchers, etc.) throughout almost all states in the USA and in other English-speaking countries such as Canada, England and Australia. A parent screening option has been added to this website so that individual parents with concerns about their child or adolescent's sleep can screen their child's sleep behaviors online and obtain a graph and comprehensive report informing them about the chances of their child having a sleep disorder, and what they can do if the probability of a sleep disorder is strong. Our company aspires to provide high quality services and products for all clients and customers it serves.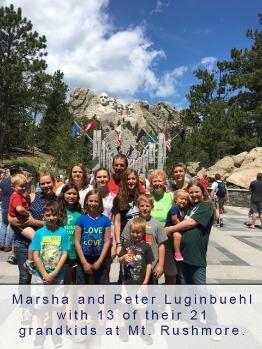 It is the goal of the Child Uplift, Inc. to improve the poor screening and referral process of children and teens with sleep disorders. At best, only 10% of all children and teens with correctable sleep disorders are being identified and receive treatment. Most people with sleep disorders are only identified when they are older adults. By this time they have experienced a lifetime of problems with their self-esteem, education, employment, interpersonal relationships, marriage, and health due to the negative impact that many sleep disorders have on these areas of life. Child Uplift, Inc. is devoted to helping identify children at an early age before their school achievement and social relationships are impaired. Our goal at Child Uplift, Inc. is that every child in the USA and throughout the world will receive a routine sleep screening for the major sleep disorders that impair children and adolescents' daytime and school functioning, health, and safety. However, we are only scratching the surface in accomplishing this goal at the present time! We are advocates of Universal Sleep Screening of all children/adolescents will ensure that these problems are corrected early, which will reduce the need for costly educational remediation and behavioral interventions, promote school and career success, good interpersonal relationships, reduce high medical costs for health problems that some of these sleep disorders cause, and help these individuals obtain a higher quality of life.